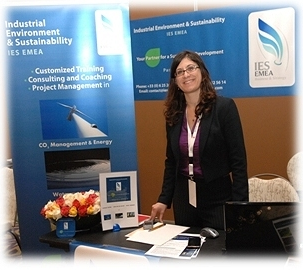 Dr. Diyab Chaden is the founder of IES EMEA (Industrial Environment & Sustainability), a strategy consulting firm based in Paris and specialized in the field of environment and sustainable development in the EuroMed area. She has worked extensively in the Middle East and Europe on environmental issues (risks and impacts of pollution, development of innovative technologies for waste management and pollution treatment ...).
Dr. Chaden Diyab is a chemical engineer and holds a Ph.D. in environmental science from the University Pierre et Marie Curie (Paris, France). She worked in France for international companies specialized in the field of infrastructure and the environment, for which she was responsible for defining the technical strategy, business development and partnership.
Dr. Chaden Diyab is a member of a working group of OECD MENA-OECD Business Council issues related to energy, infrastructure and climate change in the MENA (Middle East and North Africa). The role of this group is to provide guidance and advice to policy makers to promote innovation and green investments in the MENA region. Its role is also to identify and analyze barriers for investors and companies. The Working Group provides recommendations for policy makers, and an analysis on the challenges of energy and innovation in the MENA region.
Dr. Diyab Chaden provides training for industrial and economic development organizations in the Paris region French (Essonne, Val de Marne). It intervened in the Middle East on environmental issues related to pollution management, including as project manager involved in the management of coastal pollution by hydrocarbons in Lebanon.
She has contributed to the deployment of the management, treatment by innovative techniques and management of relationships with local organizations. Dr. Diyab Chaden has also contributed to the development of green technologies for the treatment of water pollution and soil.
In the Middle East, she worked in Iran with Iranian companies for the training of 40 high-level industry leaders on best management practices of environmental problems, energy (energy efficiency) and waste. Addition to these projects she was involved in the framework of the Convention "peace Canal" in Jordan, she was also selected to speak at the conference "Eurogulf: joining forces in a changing World" in 2010 in Kuwait (role energy Efficiency for the Gulf countries).
Dr. Diyab Chaden occurred as a lecturer on the role of innovative energy solutions (sustainability of fossil fuels and clean transportation) as part of the Amadeus Institute (Morocco) MEDDAYS 2010. It also works with a Polytechnic Institute (LaSalle Beauvais) to develop new concepts for innovation and partnership between the North and South.
EMEA IES (Industrial Environment & Sustainability) aims to be a key player in the development of industrial partnerships between northern and southern shores of the Mediterranean.